About The Author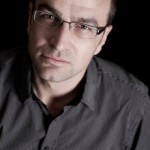 Marcus Gibson's first novel was published in 1995. The gruesome literary thriller sold out in a few weeks. With publication shortly after his 22nd birthday, Gibson had broken the standing Guinness World Record for the world's 'youngest novelist writing adult-themed work' by two years.
Prior to the publication of 'D', Gibson won recognition in several short story and poetry competitions. 'D' received favourable reviews in a number of periodicals, and Gibson made media appearances including radio, print, and live morning and late night television.
Gibson is 42-years-old and lives in Melbourne, Australia. His professional career has spanned construction worker, script editor, presenter, corporate spokesperson, producer, software developer, business analyst, knowledge manager, sustainability advisor, and environmental manager in a range of sectors including IT, pharmaceuticals, property and finance, civil engineering, and construction. He continues to write prolifically.
Gibson is a member of the high IQ society Mensa.