Subscribe to email updates...
Rain Predicts
GDP
posted by
Marcus
, November 2, 2019 @ 5:26 am
Fore­cast­ing the cost of cli­mate change is a big deal, for obvi­ous rea­sons. But the eco­nom­ic mod­els fast turn unwieldy. Health impacts, fires, floods, drought, mud slides, salt water in ground­wa­ter, crop loss, infra­struc­ture costs, labour pro­duc­tiv­i­ty, migra­tion, ocean acid­i­fi­ca­tion, less food, more peo­ple, eco­nom­ic out­put, ener­gy con­sump­tion… The impacts are end­less and inter­re­lat­ed, fold­ing back on them­selves. For exam­ple, when it's warmer a pow­er plant needs more water to cool itself, to gen­er­ate more pow­er to use on its own cool­ing and… Brain explo­sion. The chal­lenge with the mod­els is quan­ti­fy­ing mul­ti-var­ied impacts on every indus­try, plus geopo­lit­i­cal impacts like immi­gra­tion and con­flict, the cost of decar­bon­i­sa­tion, while fore­cast­ing pop­u­la­tion growth linked to health impacts and eco­nom­ic out­put and… you get the idea.
In 2006 the Stern Review had a run at it, and came up with a loss of 5%-but-maybe-20%-of-world-GDP. Stern said we could spend 1% of GDP if we act­ed fast and save 5%-but-maybe-20% in loss­es but that was 13 years ago so the num­bers are now out of date. Along comes Nord­haus, punch­es some patchy old inputs that came from Richard Tol into his mod­el, wins a Nobel Prize and says cli­mate change will cost $134 tril­lion by 2100 or we can spend $20 tril­lion now to save $30 tril­lion lat­er, then admits his mod­el is prob­a­bly bro­ken in his user man­u­al. Mean­while, Burke and his pals have a brain­wave. Instead of try­ing to fig­ure out all the thou­sands of ways glob­al warm­ing will cost mon­ey, let's just see if hot coun­tries are poor­er than cold coun­tries. The UN likes Burke's style and uses his method to fore­cast cli­mate change will cost $33 tril­lion by 2050, or 10% of glob­al GDP but if we act fast we can save $12 tril­lion.
It's here, read­ing Burke's mod­el, that some­thing feels miss­ing. Cli­mate change has big, non-lin­ear impacts that tran­scend polit­i­cal maps. One of the largest is that 16 bil­lion peo­ple in south east Asia rely on riv­er flows fed by declin­ing glacial melt water in the Himalayas. If the tem­per­a­ture changes in Nepal, then Chi­na and India suf­fer. With these two coun­tries set to be the largest economies in the world by mid-cen­tu­ry, a sub­se­quent water deficit in these two nations will also have a mate­r­i­al impact on glob­al trade.
So how do you link the sig­nif­i­cance of water avail­abil­i­ty, rather than tem­per­a­ture, back to GDP? Attempt­ing to answer this ques­tion, I came across a 2006 paper by Casey Brown and Upmanu Lall titled 'Water and eco­nom­ic devel­op­ment: The role of vari­abil­i­ty and a frame­work for resilience'.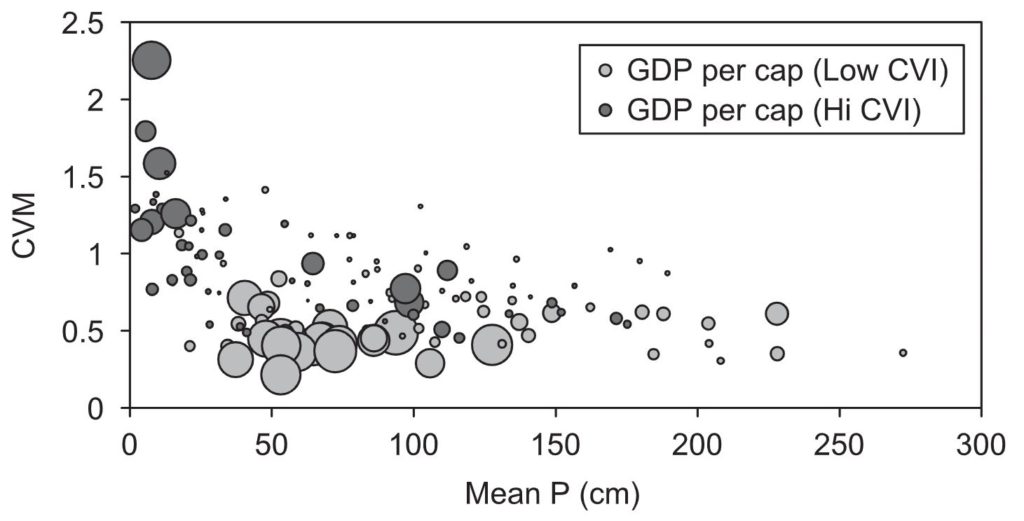 What is strik­ing about this paper is the cor­re­la­tion (shown above) between GDP per capi­ta and rain­fall vari­abil­i­ty, or 'CVM'. Not total pre­cip­i­ta­tion. Vari­abil­i­ty.
So I set out to repro­duce Brown and Lall and made an unusu­al dis­cov­ery. First, if you exclude resource rents from GDP (using World Bank data on coal, oil and gas exports) the cor­re­la­tion strength­ens. These exports and in par­tic­u­lar oil, skew GDP per capi­ta sig­nif­i­cant­ly. Equal­ly, if the goal is to mod­el long-term sen­si­tiv­i­ty of economies to some­thing like weath­er, fos­sil fuel exports add addi­tion­al uncer­tain­ty to future decar­bon­i­sa­tion sce­nar­ios. Here, where Brown and Lall had used month­ly rain­fall vari­abil­i­ty, I tried out WRI Aque­duct Water Risk Atlas 3‑monthly, or sea­son­al, vari­abil­i­ty. The results are sim­i­lar, but the out­liers on the top-left side of the fig­ure Brown/Lall fig­ure above are now gone, and the role of total pre­cip­i­ta­tion as a fac­tor is even fur­ther dimin­ished — and rain­fall vari­abil­i­ty strength­ened fur­ther.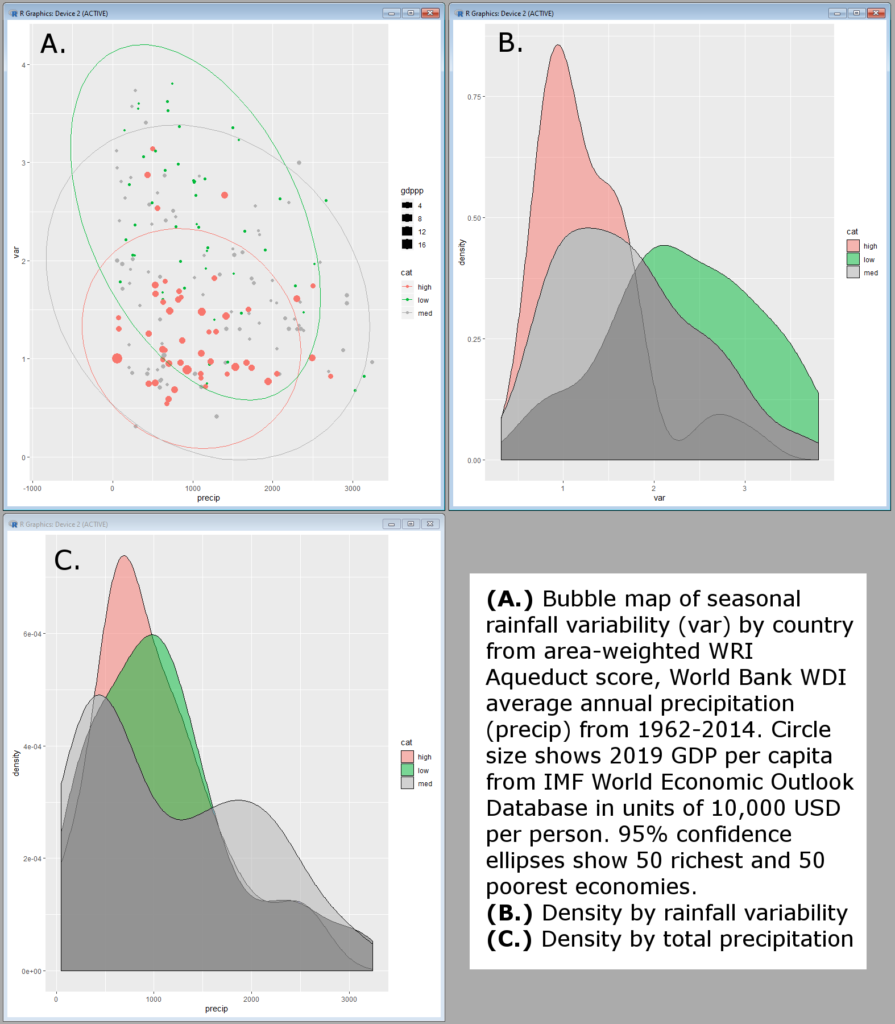 The strik­ing thing about this result is that the rain­fall vari­abil­i­ty isn't about volatil­i­ty, or even unpre­dictabil­i­ty, as 3‑monthly sea­son rain­fall vari­abil­i­ty repeats every year. Rather, it's the delta between sea­sons. The cor­re­la­tion seems inex­plic­a­ble. And there aren't very many stud­ies look­ing at the impact of rain­fall vari­abil­i­ty on eco­nom­ic activ­i­ty. Lazo et al. 2011 found US GDP can move 3.4% in a year based on weath­er, but that lim­its eco­nom­ic impact to the nor­mal range of con­di­tions in North Amer­i­ca. We can also exclude some ini­tial con­clu­sions about eco­nom­ic impacts of vari­able rain­fall. It's not about flood dam­age. Swap out rain­fall vari­abil­i­ty for river­ine flood risk rat­ing by coun­try, and the cor­re­la­tion decays: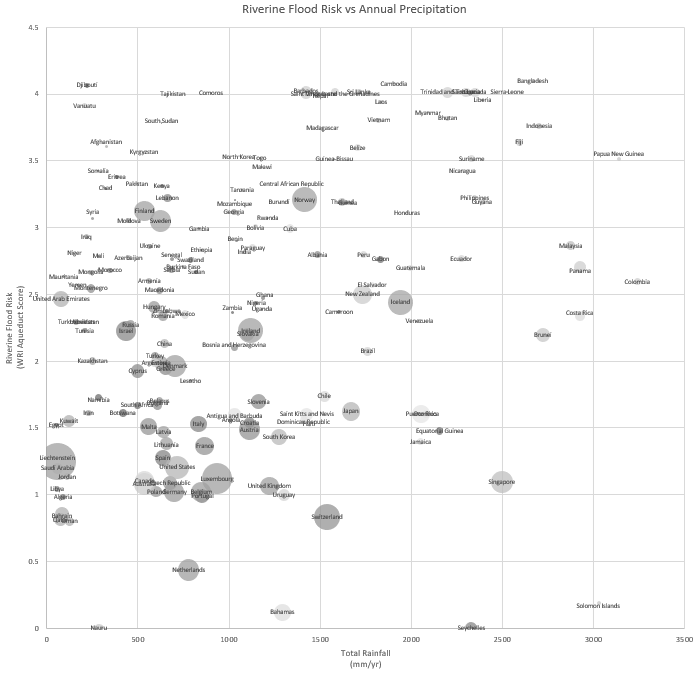 Anoth­er pos­si­bil­i­ty is that rain­fall vari­abil­i­ty just hap­pens to cor­re­late with oth­ers fac­tor that dri­ve GDP. Rain­fall might be more vari­able in places where it's cold­er. Or do these coun­tries hap­pen to be rich­er for some oth­er rea­son? The prob­lem with these the­o­ries is that while total pre­cip­i­ta­tion varies fair­ly con­sis­tent­ly by lat­i­tude, rain­fall vari­abil­i­ty is based on a range of geo­graph­ic fea­tures like topog­ra­phy.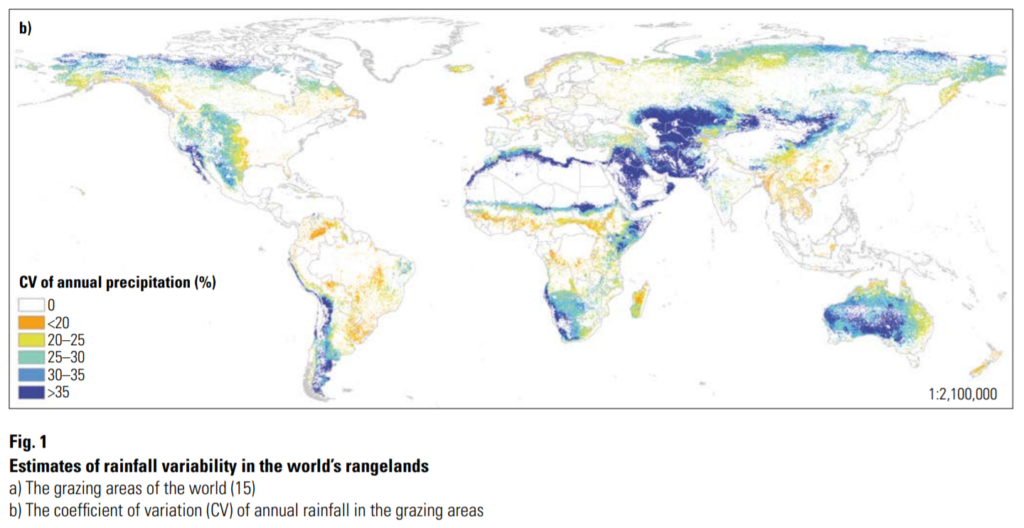 Economies also derive water from rivers, glacial melt­wa­ter and aquifers. But as with total pre­cip­i­ta­tion, the cor­re­la­tion between GDPs and water avail­abil­i­ty falls apart.
So what could it be about sea­son­al rain­fall vari­abil­i­ty that bears so strong­ly on wealth?
Eco­nom­ic Impacts of Vari­able Rain­fall
There are some obvi­ous eco­nom­ic impacts of high­ly vari­able rain­fall, and some not so obvi­ous. Obvi­ous­ly drought, flood­ing and extreme storms all incur costs. But by them­selves they aren't enough to explain the glob­al dif­fer­ences in wealth. So too, vari­able rain­fall affects agri­cul­ture – espe­cial­ly graz­ing. Spa­tiotem­po­ral rain­fall vari­abil­i­ty also impacts tourism at a macro­eco­nom­ic scale, and recre­ation­al and sport­ing events at a micro-eco­nom­ic lev­el. Min­ing and con­struc­tion – which both also con­sume water in their oper­a­tions – stop oper­at­ing com­plete­ly in heavy rain, incur­ring sig­nif­i­cant costs. So too, port and air­port oper­a­tions and fish­ing. All these impacts com­bined go some way to answer­ing the mys­tery. And then there is the less obvi­ous:
· Infra­struc­ture: In an econ­o­my with high­ly vari­able pre­cip­i­ta­tion catch­ment and dis­tri­b­u­tion sys­tems, trans­port, ener­gy and telecom­mu­ni­ca­tions sys­tems all have to be engi­neered for a wider dis­tri­b­u­tion of con­di­tions, adding to design, con­struc­tion, main­te­nance and oper­at­ing costs. And not just water infra­struc­ture. In par­tic­u­lar, roads – both sealed and unsealed – are high­ly sus­cep­ti­ble to fluc­tu­a­tions in sub­soil and sur­face mois­ture. Rain also absorbs and scat­ters radio and radar sig­nals. In some economies addi­tion­al weath­er-proof­ing must be installed on radio tow­ers dur­ing mon­soon sea­son. This may also lead to an indi­rect impact on pro­duc­tiv­i­ty to impacts on air and sea nav­i­ga­tion.
· Trans­port: In addi­tion to the dete­ri­o­rat­ing effects on pave­ments, rain is the num­ber one cause of road acci­dents, con­firmed by mul­ti­ple stud­ies, e.g.: here, here and here. Rain caus­es road acci­dents through loss of vis­i­bil­i­ty, tyre fric­tion, spray from oth­er vehi­cles, and cog­ni­tive strain. Vari­able rain­fall like­ly also has an indi­rect impact on pro­duc­tiv­i­ty of the trans­port indus­try.
· Prop­er­ty Dam­age: in addi­tion to vehi­cle acci­dents, con­vec­tive storms also cause hail dam­age – which is dis­pro­por­tion­ate­ly expen­sive com­pared to oth­er weath­er events. In the US, total dam­ages from con­vec­tive storms is the same as all hur­ri­canes.
· Human Con­flict: Numer­ous stud­ies show the links between water avail­abil­i­ty and civ­il unrest, civ­il war, protests and riots, and polit­i­cal repres­sion. But a 2015 study by sci­en­tists at Stan­ford, Berke­ley and Cam­bridge also found a cor­re­la­tion between indi­vid­ual mur­ders and rain­fall devi­a­tion. Sale­hyan & Hen­drix 2014, Von Uexkull 2014, Ghimire & Fer­reira 2016, Mares & Mof­fet­ti 2016, and Burke et al. 2009 all find sim­i­lar results on inter­per­son­al con­flict and vio­lent crime.
· Oth­er inter­ac­tions: Extremes and deficits in rain­fall con­tribute to oth­er nat­ur­al dis­as­ters not count­ed in flood dam­age, like fire sea­son dura­tion and sever­i­ty. Soil ero­sion and drought also has an impact on land degra­da­tion with costs 17% of world GDP.
In addi­tion to all of the above, there is an addi­tion­al neg­a­tive feed­back in that many of the coun­tries most impact­ed by weath­er, with the low­est GDP also suf­fer a dis­pro­por­tion­ate lack of mete­o­ro­log­i­cal ser­vices fur­ther com­pound­ing the uncer­tain­ty in their hydro­log­i­cal cycles.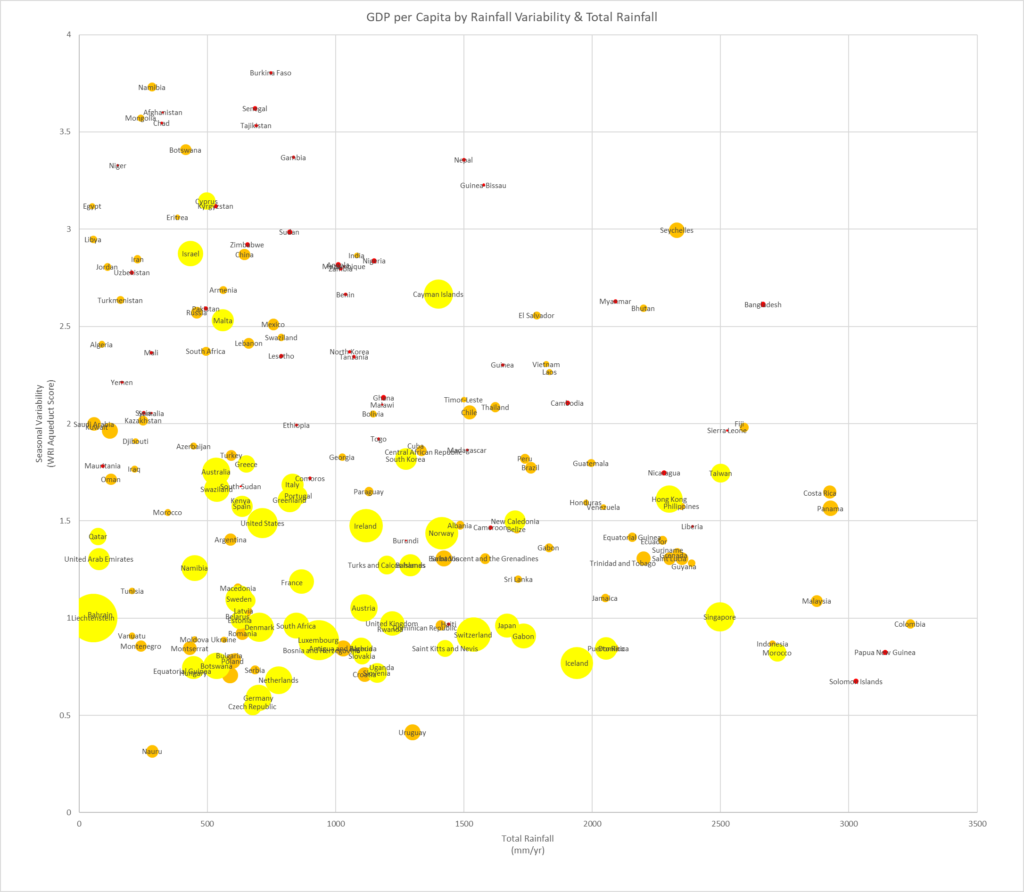 If rain­fall vari­abil­i­ty is such a strong pre­dic­tor of wealth, this has seri­ous impli­ca­tions for fore­cast­ing the impacts of cli­mate change. But there is also a more philo­soph­i­cal les­son, if wealth is not entire­ly a prod­uct of polit­i­cal, social or behav­iour­al dif­fer­ences between nations, to what extent are our liv­ing con­di­tions sim­ple geo­graph­ic for­tune?
It is with good rea­son that the world spends $50bn each year pre­dict­ing where and when it will rain.
Posted: Saturday, November 2nd, 2019 at 5:26 am
Categories:
Featured
.
Follow responses:
RSS 2.0
Both comments and pings are currently closed.
Comments are closed.